---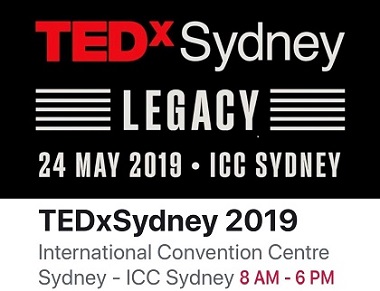 TEDx Sydney 2019
TED X Sydney
Where: International Convention Centre Sydney - ICC Sydney
14 Darling Drive Darling Harbour, Sydney, Australia Google Maps
When: Friday 24 MAY 2019

EVENT
REGISTRATION Secure your BRUNEL
Ground Transportation
---
brunel has you covered

for any event

What is TEDxSydney:

TEDx is one of the largest events on the global TEDx stage. It is a day filled with brilliant speakers, thought-provoking video and mind-blowing conversations. That is what an experience at TEDxSydney conference is! It's an event that gathers interesting people in the community to be a part of a unique day that unleashes new ideas and has the purpose to inspire and inform. Secure ground transportation to TEDxSydney with Brunel Worldwide Chauffeur Drive.

What is the structure of the day?

TEDxSydney Flagship event is broken up into 4 sessions that take place in a theatre whereby you are exposed to a line-up of speakers and performers like never before. The speakers cover the topics of science, business, technology, art, design, entertainment, culture and much more. Plus at TEDx Sydney you have access to our interactive hub, a specifically designed space where you can go to connect with interesting people and experience innovative technologies, take your taste buds on an adventure and immerse yourself in a world of possibilities. Brunel offers car hires to any TEDxSydney session.

The theme for TEDxSydney 2019 is Legacy. What have we been left with? What are we doing with what we've been left with? What will we leave behind?

Legacy is anything handed down from the past, as from an ancestor or predecessor. It can be personal, organisational, cultural or generational. Although in the context of humankind, we may feel acutely aware of our individual insignificance within the overarching and cosmic scheme of things; we continue as a species and as individual members of that species we continue to be healthily preoccupied with the impact that we can have on other people both living and yet to be living.

Friday 24 May 2019

ICC, Sydney NSW

Speakers for TEDxSydney 2019 10th Anniversary event have been announced.
Albert Wiggan: A Bardi-Kija-Nyul Nyul man passionate about culture, country and Indigenous science.
Behrouz Boochani: A Kurdish journalist, writer, poet and filmmaker. He has been held in Manus Island detention centre since 2013.
Bridget Loudon: Founder of Expert360 focusing on the future of work and the power of technology to increase work participation.
Craig Costello: A researcher in cryptography at Microsoft in the USA. He works on cryptographic applications and computational algebraic geometry.
David Wenham: An Australian actor and producer who, after growing up in Sydney went on to appear in blockbuster Hollywood films.
Eddie Jaku: 99-year old Jewish-German Holocaust survivor and self-proclaimed 'happiest man on Earth' who has made a vow to himself to smile every day.
Hedayat Osyan: An Afghan refugee and socially conscious tradie who created a tiling company, to empower those in similar situations with skills and employment.
Kim Graham-Nye: Determined to shift the global nappy industry from oil-based to renewable-based, Kim and her husband introduced a new category to the market.
Maxine Beneba Clarke: Widely published author of six books and slam poet, her award-winning memoir The Hate Race is currently being adapted for a stage play.
Monkol Lek: An Assistant Professor of Genetics at Yale University who has dedicated his life to improving the genetic diagnosis of rare diseases.
Peter Stutchbury: An internationally renowned Australian architect who has established a reputation for innovation, responsibility and connection.
Ros Harvey: An experienced entrepreneur and executive in technology, in the Internet of Things (IoT) and user-centric design committed to creating public good.
Sara Morawetz: An interdisciplinary artist whose work explores the processes that underpin scientific action.
Sharonne Zaks: Not your average dentist/musician, Sharonne combines her passions with a special focus on trauma informed care.
Tara Djokic: PhD Candidate at the Australian Centre for Astrobiology focusing on the geological setting and ecology of some of Earth's oldest evidence of life.
Tom Nash: Australian DJ and music producer who lost both his hands and most of his legs at the age of 19 who has rebuilt his life using prosthetics.
Yve Blake: Award-winning writer, composer, musical comedian whose theatre production FANGIRLS is now being adapted into a series to soon appear on Netflix.
Highlights from TEDxSydney 2018 | HumanKind
This is an event you cannot miss and Brunel can make sure you are in the room on the 24th for what can only be described as an eye opening event. BOOK NOW & SAVE