Upcoming Events in Sydney - Melbourne - Brisbane
Luxury, Style & Service

for any event

Brunel Worldwide Chauffeur Drive offers luxury executive travel services all over Australia including Sydney, Melbourne, Brisbane, and more. From trade shows to business meetings, conference and incentive meetings, Brunel offers limousine and car services to any event throughout Australia. Reserving your convention centre transport is as easy with Brunel's unique ONLINE booking engine. Reserve your driver today...

For more specialised group bookings, Brunel has you covered. Our specialty is business travel and logistics for roadshows, company team building events, conferences and events, private meetings, and VIP services. Our fleet range includes vehicles to suit every and any ground transportation movement, from limousines to people movers, SUV's and large Coach Buses, we are your one-stop-shop to all transport services. Our Coaches accommodate anywhere from 24 passengers to 64 passengers and are ideal for large group transportation to convention centres or Hotels. Our software is an all encompassing tool that allows our customers [you] to be in total control of your ground transport needs.

Through our ClientCentre feature, you are in control of who can book the service, you are able to use our software to manage every facet of your VIP ground movements; ClientCentre works in a LIVE environment and can issue information about your bookings; such as Driver details, GPS location of your drivers, upcoming bookings, all of your events bookings; whatever your needs our online booking software. Simply contact our office letting us know you have an event coming up and we will create your personalised client centre portal. Brunel is your specialist team when it comes to convention centre, incentive program, meetings conferences and events Chauffeur Driven services.

Reserve a luxury Chauffeur Driven Car or Coach to the International Convention Centre Sydney (ICC Sydney) with Brunel. The ICC Sydney is the biggest convention and exhibition center in Sydney. Located in the heart of the city, right in Darling Harbour, ICC Sydney offers an ultramodern design with innovative multipurpose spaces. Spaces range from banquet halls, ballrooms, red carpet theatres, and exhibition halls. If your business is travelling to Sydney, reserve your ICC Sydney car hire with Brunel.
---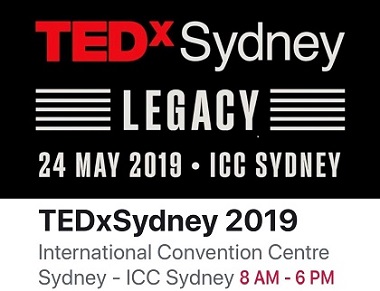 TEDx Sydney 2019
TED X Sydney
Find out more about our TedxSydney car services!

Where: International Convention Centre Sydney - ICC Sydney
14 Darling Drive Darling Harbour, Sydney, Australia Google Maps
When: Friday 24 MAY 2019

LEARN
MORE EVENT
REGISTRATION Secure your BRUNEL
Ground Transportation
---